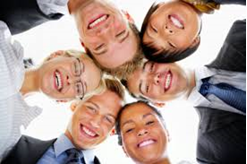 The Team+ System is a web-based, fully integrated suite of online resources designed to enhance student team performance and learning. After logging in from any computer or device, your students access a series team building activities, a peer evaluation process, collaboration tools, and a set of instructional videos designed to help solve common team problems. The Instructor App allows you to monitor team activities and individual member participation. Messaging, video conferencing, document sharing, and social networking features are integrated into the system to help keep students connected and facilitate the execution of their group work.
Click here to access to the Team+ DEMO system where you can experiment with a preconfigured, read only view of the Team+ System.
---
Watch the Team+ Video Tour
Get Started Now
Click to create your account
---
Features of the Team+ System
•   Can be seamlessly implemented in any course
This system is designed to be used in any course that utilizes student teams, regardless of course content. The activities are brief and will not place a burden on already busy students. As it "runs in the background" your teams should become more efficient and productive, allowing both them and you to focus on learning.
Is fully online and web-based for easy access and implementation
Team members may access the Team+ website from any computer, laptop, or hand-held device. All necessary information and resources are found on the Team+ website.
Is an integrated system well-grounded in educational research
Based on years of published research that identifies characteristics of effective student teams, our system promotes a successful group experience through an integrated network of features that emphasize team development, team member education, and peer assessment.
Guides your teams, step-by-step, through a series of activities designed for specific developmental purposes

These activities, called The Team+ Journey, motivate team members toward greater collaboration and performance as they learn to trust one another, make critical decisions regarding how to operate as a team during the semester, closely monitor their own team performance to make "mid-course " corrections, and hold one another accountable for individual participation and performance.
Empowers team members to solve their own problems
All students may access the Team+ Teamwork Skills Video Library, a collection of brief videos that address specific issues often found in student teams.
Allows the instructor to closely monitor all activities
Access to The Instructor App allows you to monitor the progress of every team and student through The Team+ Journey, as well as assess the participation and contributions of individual team members. Additionally, the peer assessments included in the system yield individual student performance ratings on behaviors critical for successful team performance.  The Team+ data and scores for all activities can easily be downloaded in spreadsheet format with the click of a button. Instructors can use this data for their own assessment purposes, research, or for calculating course grades.
How Do I Get Started?
First, create your instructor account on the Team+ website, click the button to Add a New Class, and follow the instructions. Once your class has been created, simply assign your students to team numbers before they register at the Team+ website, and the system will guide them from there!